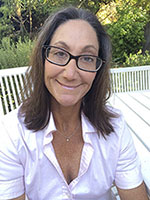 Lindsay Diane Chag was born in Sacramento, California to Stephen S. Chag and Mary L. Pacific Chag. Her parents met while stationed in Okinawa, Japan, serving in the U.S. Air Force during the Korean War. Stephen was an officer and Mary was a flight nurse.
Lindsay's ancestors immigrated to the U.S. from different parts of the world, shaping both her love and appreciation for different cultures, and also instilling in her, a significant work ethic. Lindsay's paternal grandparents, surname Chagrasulis, immigrated to the U.S. from Greece. They were farmers in the small town of Weare, New Hampshire. Her father, Stephen, attended the University of New Hampshire. Lindsay's maternal great grandmother immigrated to Chicago from Bavaria, Germany. Her grandmother left Chicago and settled in Houston, Texas, becoming one of the first female executives at Honeywell. Lindsay's mother, Mary, later attended the University of Texas at Austin. Lindsay's maternal grandfather immigrated to Los Angeles from Sicily, Italy. He was a barber at Twentieth Century Fox Studios, where his daughter, Mary, used to visit him when she was a small child. That was when Lindsay's mother fell in love with movies – something that was delightfully passed on to Lindsay.
Many years later, Lindsay took a job based at Twentieth Century Fox Studios. She and her parents had lunch at the famed Fox Commissary – the same studio lot where her mother visited her own father decades earlier.
Lindsay has one older sister, Darian Chag Pasterski. Darian is a Technology Executive who has held high ranking positions at Mattel, Callaway Golf, Modern Postcards, and DJO Global. She and her husband, Wally Pasterski, reside in Tucson, Arizona.
The Chag family moved around quite a bit during Lindsay's childhood. In addition to Sacramento, they lived in Montgomery, Alabama, Sioux City, Iowa, Kansas City, Missouri, Fairfax Virginia, Kaysville, Utah and Woodland Hills, California. She credits all the moving during her youth, for her congenial nature, and ability to adapt to situations with grace.
Stephen Chag served as a full U.S.A.F. Colonel at the Pentagon for 7 years. Within this period,
he served for 2 separate years as an advisor in Viet Nam. While he was overseas, Lindsay's mother taught her to play tennis in the driveway of their Virginia home. She subsequently brought her then 7-year old daughter to a local indoor tennis facility for lessons. Lindsay was a natural, and quickly advanced to tournament level play. However, Stephen's job took the family to Utah where there wasn't a big tennis presence. But Lindsay's love for the sport lived on. In Utah, Lindsay focused on music, learning to play the alto and soprano saxophones. She also learned to ski, ride a dirtbike, and enjoyed hiking through the mountain foothill trails near their home.
After moving to Woodland Hills, California, Lindsay attended Calabasas High School. She is still in touch with many friends she knew there, as well as teachers who had a great impact on her. She had an affinity for school in general, participating in all sorts of activities including music, sports, theatre, student government, and advanced academics.
Lindsay was accepted into MIT and Cornell University and was also offered a full scholarship to the University of Houston School of Engineering. Though initially interested in pursuing a career in Astronautical Engineering, Lindsay decided instead to attend Stanford University where she earned a dual bachelor's degree in Psychology and Drama. Upon graduation, she moved back to Los Angeles
to seek work in the entertainment industry.
Within a few months of graduating college, Lindsay started a casting internship with Reuben Cannon and Carol Dudley. This was a major turning point in her life and career. She avidly trained for 9 months. She was offered an assistant position the following year with Fern Champion and Pamela Basker's company, where she worked on such films as 'Pet Cemetery', 'Naked Gun', 'Troop Beverly Hills', the tv miniseries, "War and Remembrance", and the comedy series, 'Mama's Family'. After a few years, Lindsay was hired as a Casting Associate at Harbin/Hymson Casting at Twentieth Century Fox Studios. There she worked on the tv series, 'Doogie Howser, M.D.' Soon after, Lindsay was offered her first solo casting project, the Jamie Lee Curtis series, 'Anything but Love'. She continued working at her office at Fox Studios, casting that series for 2 years, as well as a Rosie O'Donnell series. Lindsay also cast her first television pilot, 'Esme's Little Nap' which was written by Carrie Fisher and starred her mother, Debbie Reynolds. Lindsay was also offered her first studio feature – the Mel Brooks' film, 'Robin Hood: Men in Tights'. She went on to cast Mel Brooks' next film, 'Dracula: Dead and Loving it'. In the decades since, Lindsay has cast several hundred projects for television and film, working with a wide array and level of producers and talent.
One of the most profound experiences of Lindsay's life was being contacted by the Make-a-Wish-Foundation in Los Angeles about Brooke Flamion, a teenager suffering from terminal brain cancer. The teen's wish was to audition for a role in a movie. Lindsay was casting an independent film at the time, which was written and directed by Jeffrey Phelps and based on Jeffrey's own successful battle against cancer. Lindsay asked Jeffrey to not only audition Brooke, but to cast her in a role, and he enthusiastically agreed. The production flew Brooke and her family to L.A. to shoot a scene in the film. It was a true dream come true for Brooke who passed later that year. Lindsay continues to support her local chapter of the Make-a-Wish Foundation and hopes to help grant wishes for many more kids.
Outside of casting, Lindsay enjoys tennis, hiking, bicycling, watching movies and tv, attending plays, and reading. She has an avid appreciation for skydiving, ziplining and white-water rafting. She competes regularly in tennis matches and has been to the Nationals in Tucson, Arizona. She has won several club and local tournaments and is a lifelong fan of Roger Federer.
Lindsay is a huge animal advocate and often volunteers with animal rescue organizations. She has adopted many pets of her own (she currently has 4 rescue cats) and has helped re-home numerous shelter and stray animals.
Thanks to her mother's passion for the arts, Lindsay was enchanted from an early age by theatre, movies, and television. While she never developed a desire to act, she felt compelled to work amongst artists. After decades in the business, she still gets chills watching an inspiring performance. The prospect of helping to discover talent – to support, encourage, and promote artists in any way possible- is one of her life's joys.
Lindsay's mother passed away in 1996 after a 10-year battle with the autoimmune disease, Scleroderma. Her father passed suddenly in 2000 from an aortic dissection. They are both buried at Forest Lawn Cemetery in Los Angeles. Lindsay's mother shared a quote that has an impact on her life to this day: Etienne de Grellet: "I shall pass this way but once; any good that I can do or any kindness I can show to any human being, let me do it now. Let me not defer nor neglect it, for I shall not pass this way again."
Lindsay has offices in both Atlanta and Los Angeles. Her office welcomes unsolicited submissions from aspiring talent. She provides private career and audition coaching as well as classes in audition techniques.